On one of my last nail polish shopping trips my friend Lo (
ig@Bruisedupdollie
) purchased this little piece of awesomeness. This is the ASP Manicure Saver Cotton Claw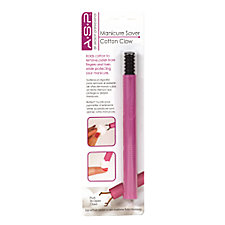 ASP Manicure Saver Cotton Claw
We've all run into this situation. You have a lovely manicure and you've picked the perfect outfit and some cute open toed shoes. That's when you notice *gasp* you are in need of a pedicure like yesterday. What is a girl to do? You can't possibly take off your toe nail polish and risk ruining your mani. That's where the cotton claw comes to the rescue. You can use the claw to pick up a cotton ball, dip in some acetone and say bye-bye to that old polish. While keeping your fabulous mani in tact.
This retails at Sally's Beauty Supply for $3-4. The ASP Manicure Saver Cotton Claw gets a pretty polished thumbs up! Be sure to follow fellow polish addict

ig@bruisedupdollie

she does some super cute nails and is just all together awesome.
Thanks for stopping by
<3 Pinky